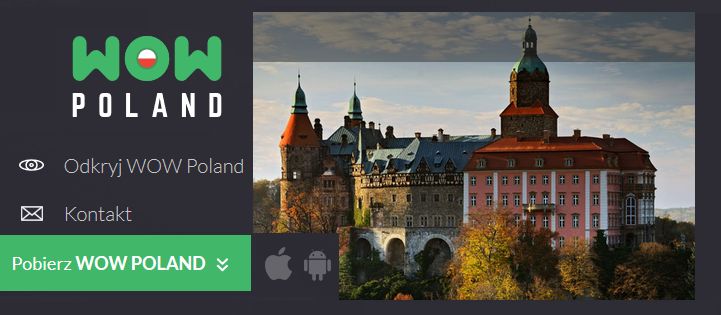 Every corner of Książ preserves its own, intriguing story. To tell these tales, we have made a new app available to our independent visitors: WOW Poland. As of 19 October. those with tickets for non-guided castle tours will be able to test this app.
Until the end of year, visitors may not only view the splendid interiors of the castle, but also experience a true historical journey, in time and space, enriched by pictures, films, other visual materials and three-dimensional displays. We encourage you to test this virtual tour, and give us your feedback: if something should be added or could work better, please let us know! We welcome all your suggestions.
If you're among those who are uneasy about using apps, we'll dispel any fears. WOW Poland is very easy to use, and our staff is waiting, in a specially prepared room on the second floor of the castle, to help you get started. We encourage you to download the application itself at home (though still without the visitor route), with the help of the Google Play store (for those using the Android system, Version 4.3 and higher) or the App Store (for those with an iOS system, Version 7.0 and higher). The application is not yet available for telephones and tablets using the Windows operating system.
The application makes use of Beacons, which has been revolutionizing the present tourist market and enabling travellers to visit new places in an innovative way.
If you are seriously interested in the history of Książ and wish to know more, see more and especially to experience more, we invite you to a virtual visit. It is possible to talk about the castle – and listen – endlessly. So don't wait: let the history of Książ capture your imagination, and start testing WOW Poland with us.
WOW Poland App: