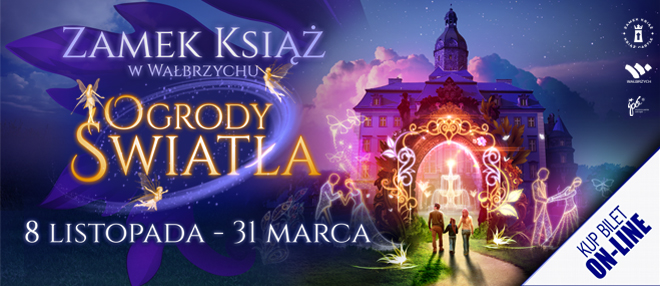 Gardens of Light at Ksiaz Castle
November 8, 2019 – March 31, 2020
For the first time ever, the gardens of Książ Castle will come alive with a thousand lights! For five months, the Castle terraces will turn into a spectacular light show, bringing a shimmering vitality to the Castle walls. Streams of light will flow from the fountains; flowers will bloom on the Rose Terrace; and on the West Terrace, transformed into a ballroom, a celebration worthy of a princess will be in full swing. Give yourself up to the magic of the Gardens of Light!
OPENING HOURS
From November 8 to 11 the Gardes of Light will be open to 9 p.m.
Sunday to Thursday 4 p.m. to 8 p.m. (Ticket office open until 7.30 p.m.)
Friday, Saturday 4 p.m. to 9 p.m. (Ticket office open until 8.30 p.m.)
Tickets may also be purchased at Hotel Książ***.
We also encourage you to purchase tickets online at www.bilety.ksiaz.walbrzych.pl. Tickets may be presented either in paper form, or on the screen of an electronic device.
Brought to life, every day!
A wonderful display of sound and light, takes place daily in the West Terrace Ballroom. The first show begins at 4.25 p.m., next in every 25 minutes; shows continue until the gardens close.
TICKET PRICES
Admission ticket
Regular ticket – 20 zł
Reduced-price ticket – 15 zł
Admission ticket with discount – for those with another valid* ticket to Castle services:
Regular "plus" ticket – 20 zł
Reduced-price "plus" ticket – 15 zł
Children up to four years of age – free admission.
*A ticket for any other Castle service (must be shown to security) must not have been already used at the time of purchase of a discount ticket for the Gardens of Light show.