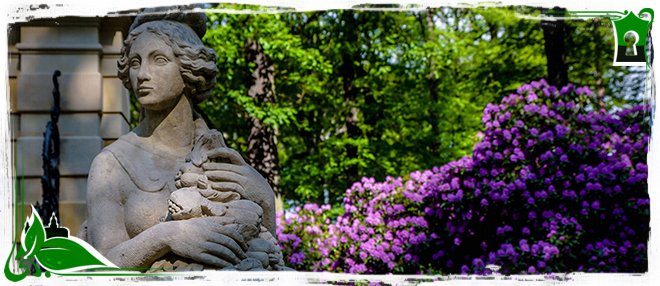 The rhododendrons are In bloom at Książ Castle
Huge clusters of rhododendrons flourish in the Ksiąz Landscape Park. Just now, they are in bloom, a wonderful display of nature's handiwork. Why not take a stroll in the castle's surroundings?
At the beginning of the twentieth century, the last aristocratic mistress of Książ, Princess Daisy, decided to change the appearance of the Castle park and terraces, and brought gardeners from her native Britain to Ksiąz. The gardens, maintained up to that time in the very orderly French style, were newly modelled according to English traditions, with a romantic and natural character. Daisy's beloved rhododendrons appeared in huge numbers. The Wałbrzych Palm House, which was also the source of fresh fruits and vegetables for Książ's kitchen, provided seedlings for the bushes and other plants that were to change the character of the Castle's surroundings.
The Książ Landscape Park – one of the first in Poland -- was created on October 28, 1981. At the edge of the Wałbrzych Uplands, between Świebodzice and Wałbrzych. Its surface area extends to 3,155 hectares (as much as 87% of this is forest), with a protective surrounding area of 5,933 hectares.
The areas covered by the Daisy Lake and Książ Ravine nature reserves are particularly valuable. Up to 15 hectares of the Ksiąz Castle park was designated in 1977 as an arboretum, the Sudety Dendrological Garden. It owes this designation to its trees and bushes, up to 2,450 in number; they include 82 species and varieties, 130 exotic specimens and 124 trees that serve as natural monuments.
To this day, visitors have been enchanted by its clusters of rhododendrons of various colours, such as white, pink and yellow.