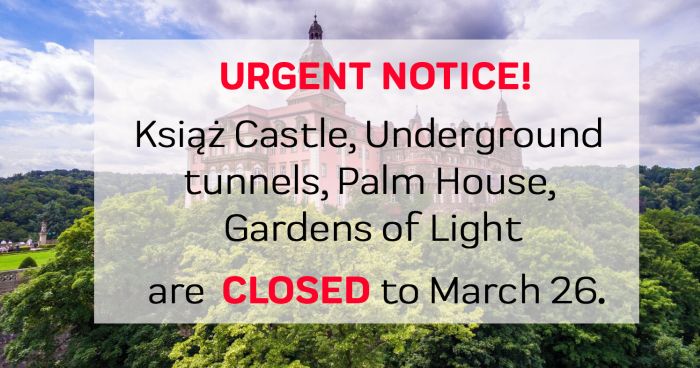 <div style="box-sizing: border-box; font-family: " segoe="" ui",="" system-ui,="" "apple="" color="" emoji",="" "segoe="" ui="" sans-serif;="" font-size:="" 14px;="" font-style:="" normal;="" font-variant-ligatures:="" font-variant-caps:="" font-weight:="" 400;="" letter-spacing:="" orphans:="" 2;="" text-align:="" start;="" text-indent:="" 0px;="" text-transform:="" none;="" white-space:="" widows:="" word-spacing:="" 0px;"=""> Dear visitors,
In accordance with preventitive measures to counter the spread of the coronavirus, Ksiaz Castle and the Walbrzych Palm House will be closed for a period of two weeks, from March 12 to March 26 inclusive. We will provide further information as the situation develops.
During this period, previously scheduled events on the premises of Ksiaz Castle and the Palm House will not take place. These include evening tours and suppers, as well as the Ksiaz Chamber Orchestra concert, Książ by night tour,. Those who have already purchased tickets for these events, are entitled to a cash refund or to exchange the tickets for those valid on a later date. Please inform us of your preference by e-mail at nocne@ksiaz.walbrzych.pl.
If you have purchased tickets for other Castle services, valid during the closure period, please contact us at zwiedzanie@ksiaz.walbrzych.pl
Please be advised that HOTEL works unchanged, If you have additional questions, please contact us at hotel@ksiaz.walbrzych.pl